08 Sep 2021
5 Ways To Show Gratitude In A Remote Work Environment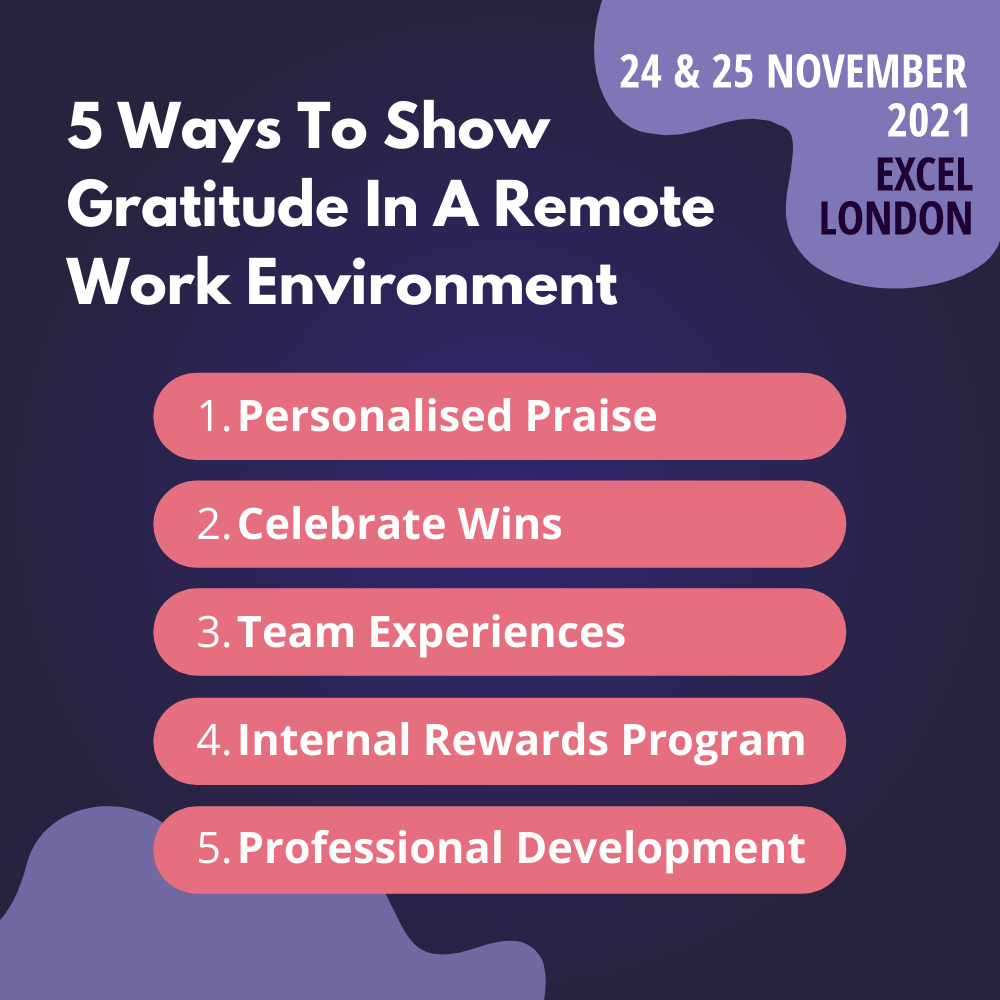 Companies across all industries have adopted remote working arrangements for their employees. And while this has provided companies and teams with all kinds of benefits, it also led them to face several difficulties. One challenge in particular for a business with a remote workforce is issues related to employee appreciation. Showing your employee gratitude is one way to combat these feelings by helping to boost morale and build pride in their world.
Whether it's employee appreciation day or a regular day, all employees like knowing that their work is valued, here are different ways to show gratitude at work virtually:
1. Personalised Praise
There are multiple ways to show appreciation at the workplace, but sometimes it can be better to make this gesture personalised. This could be a gift that employees can enjoy in their own time - for example, customised items for the home office, a nice bottle of wine, or an item related to a hobby. The important thing is to find the best ways to show praise that fit you and your team.
Or, if you don't want to send gifts, you can send a personal note or email to the employee. These may be better suited if praising a specific accomplishment, always having a positive attitude, or being a thoughtful co-worker.
2. Celebrate Wins Office-Wide
With more and more businesses keeping remote working since the pandemic, employee recognition is even more important. Your employees may not have many face-to-face interactions with other employees. Therefore, achievements can be forgotten about and not celebrated. The simple act of showing gratitude increases optimism, boosts career goals, encourages better decision-making, and makes us generally healthier and happier.
To execute this, make a point to celebrate accomplishments across the company through a shared channel of communication such as Zoom or Slack, etc.; this will allow peer encouragement. you should also recognise individual wins or accomplishment. This could be done on weekly company calls; this is a great way to thank hard-working employees.
3. Offer A Full Team Experience Online
Employees work better together if they all feel connected and comfortable. If you're wondering how to express gratitude professionally, consider alternatives that make all the team feel connected. For example, offering a full team experience online will help you show gratitude for their work while simultaneously strengthening your company's culture.
Example of online team experiences are:
Guided wine tastings
Artist-led painting workshops
Virtual escape rooms
There are many more experiences you can do online with your team. You just have to find the right one.
4. Create An Internal Rewards Program
There is no better way to show appreciation of an employee than by offering rewards. By creating a dynamic internal rewards program for employees, it increases employee loyalty and engagement. It is a great way of saying their hard work and dedication are recognised and valued because sometimes a thank you email or call is not enough.
It is the business's choice how they would prefer to offer these rewards, whether it be a monetary reward or something different. Also, they would have to decide what employees would get rewards for. Some examples of this are the length of service, exemplary one-time achievement, noteworthy performance over a period of time. However, don't forget to reward less traditional areas such as client retention, morale building, innovation, etc.
5. Invest In Professional Development Opportunities
Employees want to feel valued and that they have a future at the company. Therefore, a great way to show gratitude is through professional development and training opportunities.
A Stanford University study found that 67% of remote workers say they want more work-related training. Show your remote team that you care about their professional growth by providing access and financial funds for relevant opportunities such as webinars, conferences, and training courses. This is also a great way to increase employee retention as employees will feel appreciated making them want to stay with the business for long.
These are just some of the top ways to show to show gratitude in a remote work environment. It is crucial that if businesses keep remote working, they need to change their processes to support and reward their staff.
If you want to find out more about business adaptation and innovation regarding remote working, then come along to Working From Home
Live, running alongside The Business Show, at ExCeL London, on the 24th and 25th November!
Click here to claim your FREE tickets!
Author's BIO
Working From Home Live
A co-located show at Europe's largest business show is back for 2021, returning to London's ExCeL on the 24th & 25th November! This year we have launched a new event - Working From Home Live, running alongside The Business Show and Retrain Expo.