Influencers: The New Norm?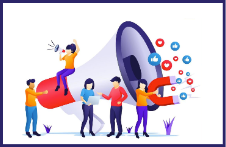 Influencer marketing is projected to become a $15 billion industry by 2022
With influencer marketing projected to become a $15 billion industry by 2022, the rise of beauty and lifestyle celebs such as Lauren Conrad and Kylie Jenner over the past decade has been one to watch.
The definition of an influencer is 'a person with the ability to influence potential buyers of a product or service by promoting or recommending the items on social media.' Meaning there is a great benefit for brands to get their marketing and publicity through figures who already have accumulated millions of followers at the click of a button. The accessibility and ease of the influencer lifestyle is one that appeals to many, one being beauty influencer and businesswoman Huda Khattan who's makeup brand Huda Beauty has over 48 million followers.
Only on my terms
Another aspect of the influencer lifestyle that is extremely appealing to many is the 'self made' status, this enables influencers to select their working hours depending on the need of their own business and brand. Influencers are able to work from anywhere in the world as long as they have internet access to post content, many of which are brand paid trips whereby companies use resorts to display their products and services.
One successful campaign run by Tarte Cosmetics used the hashtag '#trippinwithtarte' to showcase the new products launched, entwined with a holiday to Bora Bora. Moreover, influencers can be paid to partner with brands by adopting a 'paid partnership' or 'sponsored' status and including the hashtag '#ad' in their social media posts. Compared with standard TV adverts which last around 30 seconds and reach a limited target audience, social media posts are guaranteed to reach at least a quarter of the influencers following and lasts until it is deleted.
Social media affiliate marketing on the rise...
2006 saw the founding of Boohoo, a fast fashion company owned by Mahmud Kamani. The company has generated over 6 million followers and counting on Instagram. From the success of shows such as Love Island, with a target audience of young women aged 16-25 who primarily use social media, brands are able to partner with stars from such shows and easily promote their brands. For example Love Island couple Olivia and Alex Bowen have used the recent Black Friday event to promote brands advertising 80% off and an extra 20% using an affiliate code thus meaning the brand pays the influencer commission for promotion and using the code to generate sales.
The era of the classic 9-5 working week could well be a thing of the past as many employees continue to work remotely. This new working lifestyle has seen a rise in influencer marketing with studies suggesting 70% of millennials are influenced by social content from their peers. Furthermore, Facebook and Instagram have both reported a 40% increase in usage amongst people under 35 meaning now has never been a better time for social media brand exposure. Investing in the right influencer for your brand/services could help boost sales and be a great marketing tool for your business.