Why are leaders and employees still at odds over hybrid working?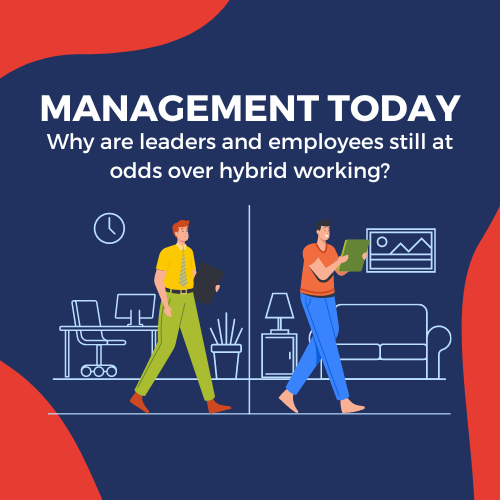 The past two and a half years have hardly been an uneventful period for the UK economy, but few topics have energised the business press over the period quite as much as hybrid working. Even allowing for the fact that the overwhelming majority of employees (about 63% according to the Office for National Statistics) cannot work from home even if they want to because of the nature of their jobs, the tension between business leaders and their subordinates on the topic remains stark.
Management Today, whose readers tend to be executives or those who aspire to the corner office in future, has been on the front line of this debate. We've heard from a variety of leaders who have seen significant productivity benefits in allowing employees a greater degree of flexibility over when and how they work. Typically, they tend to be in tech-enabled businesses that are set up to operate across channels and locations by their very nature.
For example, Griffin Parry, co-founder of software firm m3ter, who brings his employees together every 13 weeks for an in-person meet-up but otherwise operates a fully remote business. While he acknowledges the serendipity of spontaneous conversations is hard to replace virtually, the benefits outweigh such drawbacks in his view, and he cautions against looking to hybrid as the solution: "As soon as you do that you create a second class citizen problem. Those who work remotely are missing out on conversations that happen in corridors, so the best thing you can do is go extreme."
Many office-based businesses have been more pragmatic, embarking on listening exercises with their staff, offering varying degrees of flexibility and achieving buy-in for some form of hybrid working in which most employees attend the workplace at least a couple of days a week.
But for just as many, if not more, the issue is not resolved, and that often comes down to radically different expectations between bosses and their subordinates. "Many companies are simply not listening and are mandating people return to the office," Kim Lanza, director of custom manufacturing conglomerate Cimpress, told us just last month. "It's now more important than ever for employers to read the room and listen to what their employees really want."
At the same time, those who take too draconian a view of the issue have been badly burned during a recruitment crisis that has seen employees more willing and able than ever to jump ship if they feel they are not being listened to. Management Today has reported on a surge in negative Glassdoor reviews of firms where staff are being 'forced' back into the office.
The Financial Times has suggested that the next couple of months will be crucial in determining whether hybrid is a sustainable shift in the nature of knowledge work or a short-lived trend. It cites the number of firms seeking to renegotiate leases, the effect of the economic downturn on corporate margins (and subsequent tightening of the labour market) and even the potential for employees returning to the office to keep warm. But much will also depend on whether leaders and their staff can find common ground – and on that point, the signs of the past couple of years are not that promising.
Find out more about how Management Today can help leaders excel by visiting us on stand B1392.