Myprotein Oliver Cookson Case Study - From a £500 overdraft to a multi-centimillionaire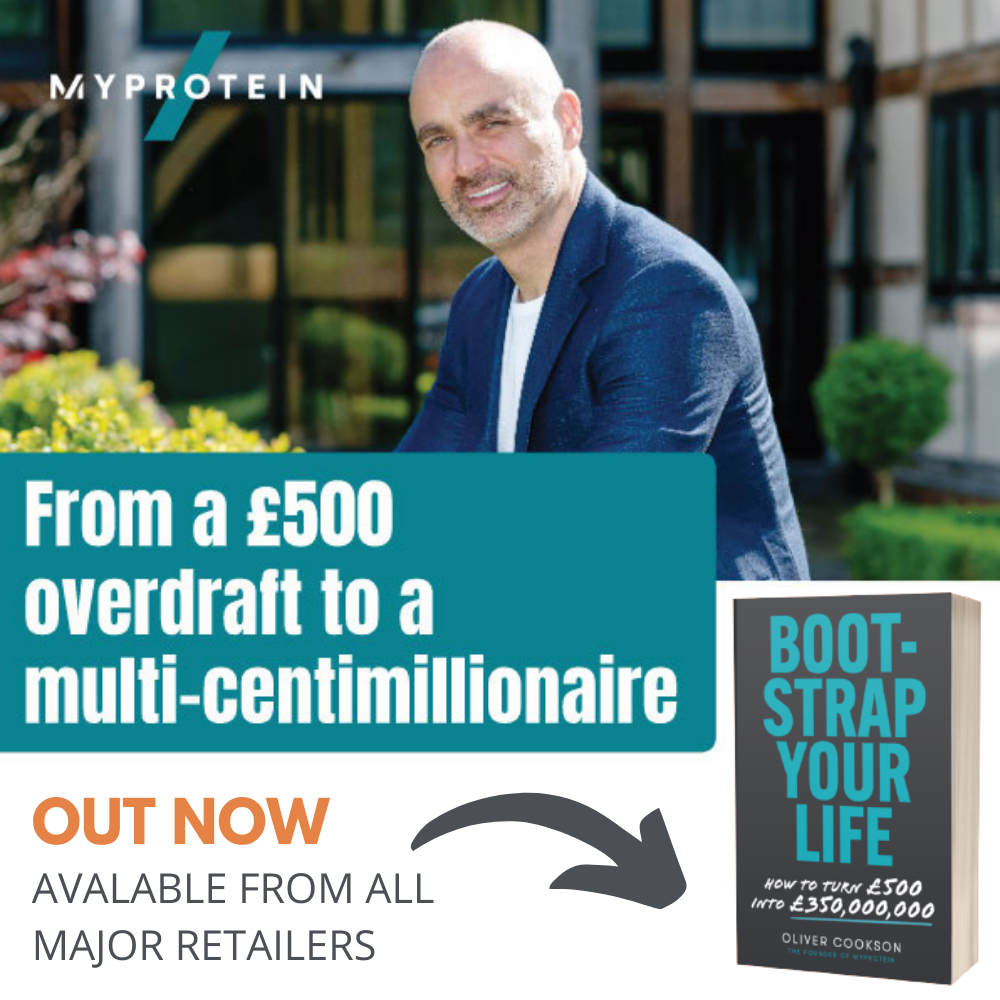 Oliver Cookson is an award-winning British entrepreneur who was driven at an early age to start the multi-million pound business Myprotein.
Having left school at 16 with one GCSE, he later (2019) went on to become the UK's number one self-made millionaire under 40, with a net worth over £300m. As a keen gym goer who frequently purchased protein powder, Cookson had an interest as to 'what actually is this?'. He then later went on and found the sports nutrition brand Myprotein in 2004 with just a £500 overdraft.
"A risk that paid off"
After seven years Cookson went on to sell the business to The Hut Group whilst retaining 100% of the equity. The deal ended up being worth in excess of £350m. At that moment, Cookson ended-up becoming a multi-millionaire, and more recently being named in the 2019 Sunday Times Rich List.
"It wasn't all smooth"
In an interview with Insider, Cookson explains his struggles with school and learning the 'conventional' way. Cookson says 'It's better for me to learn on this job' after describing how difficult he found being told what to do - he'd simply switch off. Before leaving school, Cookson had set-up two businesses buying and selling computers consoles before they were released here in the UK.
His interest in computers naturally led Cookson to take on an IT course in college, however, after just two weeks, he dropped out finding the course 'mind-numbingly boring' adding that he'd already known everything they were teaching.
"The major breakthrough"
It wasn't until 1999 after Cookson had returned from a year living in Australia that he found a passion for working out at the gym after noticing a David Lloyd fitness advert. His newfound love for the gym led him into taking proteins and supplements which later sparked his interest into what was actually in them. It was then, Cookson secured a small lock up in South Manchester and developed the Myprotein brand.
"Becoming an entrepreneur"
Throughout interviews, articles and media, Cookson has always commented on his drive to become successful at an early age. He'd always had an entrepreneurial spark after trailing many success and failed businesses which paved the way to developing the 'big project'. Cookson believes his success and drive for becoming an entrepreneur is largely due to his upbringing; being without the luxuries of some helped nurture the necessary drive which saw Myprotein grow and develop over 100 percent year-on-year since its inception in 2004.
"Making a difference"
Since selling Myprotein in 2011, Mr Cookson has become interested in personal and spiritual growth. He is a patron of children's Make-A-Wish (UK) charity' who makes the dreams of critically ill children come true. He is also a major donor for Caudwell Children's charity, which transforms the lives of disabled children across the UK. Cookson hopes to continue making an impact in the world through more charitable work.
Having sold the Myprotein business to The Hut Group in 2011, Oliver now focuses on helping other entrepreneurs as an author, businessman and a presenter of his own podcast 'Bookstrap Your Life'.
In each episode of his podcast Oliver answers questions sent in from listeners, covering the tools and habits of entrepreneurship whilst touching on business acumen, self-esteem, perseverance, and life lessons learned along the way.
To come and watch Oliver Cookson talk at Europe's largest Great British Business Show, simply register for your FREE ticket here.
Also, check out his new book 'Bookstrap Your Life' which is out now. You can order via Amazon here.