Now More Than Ever We Need To Support Black Businesses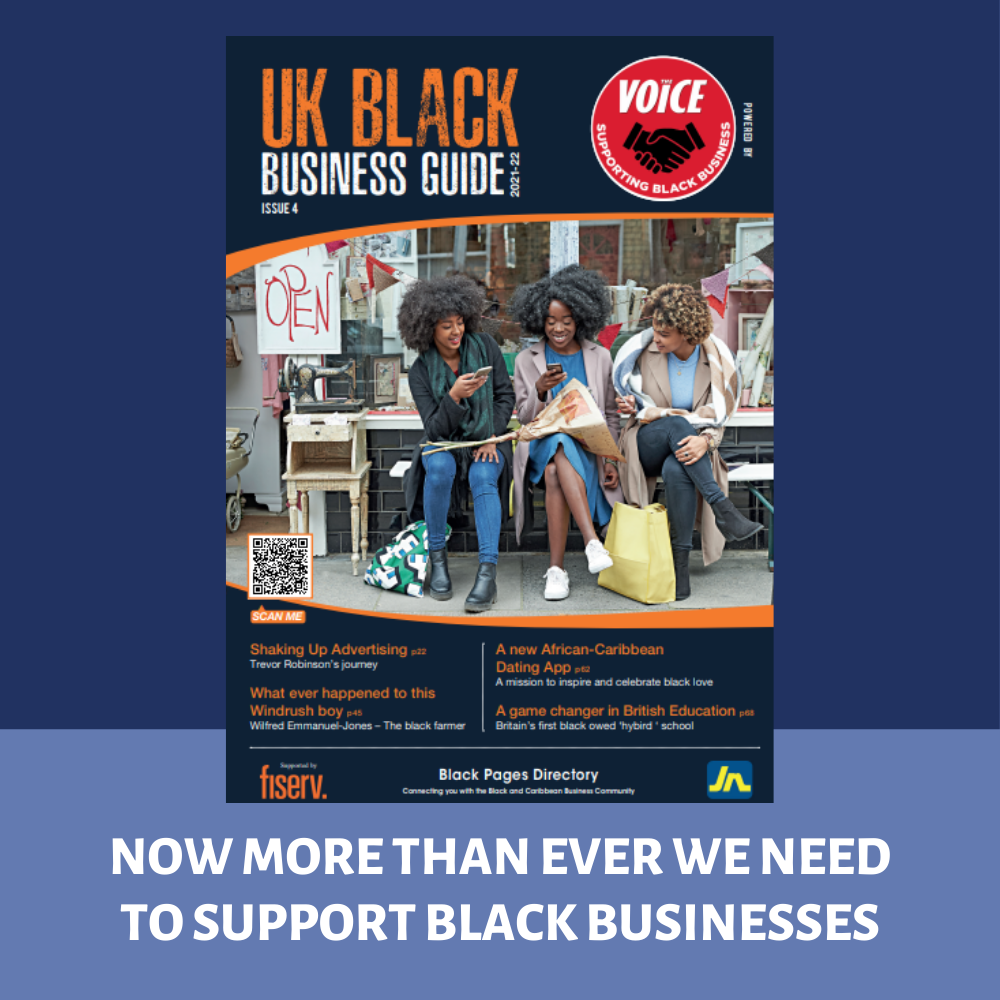 The years 2020 and 2021 have been challenging for everyone, history will note this period as the years when Britain and the entire world went into lockdown as a result of the Covid -19 pandemic and sadly many people lost family and friends.
The team at the Voice would like to acknowledge and congratulate our black owned businesses that found innovative ways, together with the use of online platforms, to continue to provide products and services to the community. These include many restaurants, bakeries, couriers, food wholesalers, trainers and educators, event organisers, hair and beauty suppliers and carers, to name a few.
Unfortunately, many businesses were not able to survive whilst others had to change their business model.
Over the years The Voice has campaigned for the community to support Black owned businesses and three years ago we took the bold step to publish a magazine; The Voice Black Business Guide, to showcase black owned businesses across the UK.
This enables us to continue to highlight the achievements of numerous self-sustained small and medium size enterprises (SMEs) in the UK. Many of these businesses are financed and operated by unsung heroes and heroines delivering excellent products and services and, let's not forget that they all contribute greatly to the UK economy.
The global pandemic continues to restrict the movement of people and so it continues to affect the livelihood of black business owners.
Now more than ever it is crucial that they get our support.
Three editions of the Voice Black Business Guide have been published in October to help black businesses in the run up to Christmas Shopping, encouraging consumers to BUY BLACK.
In 2020 we had to pivot and so The Voice Black Business Guide 2020 edition was published in a digital format which allowed businesses to have a link directly to their website. This was shared across all the Voice platforms - website, social media.
That is why The Voice Black Business Guide is so important - it gives these businesses a platform to enable people to find them as they showcase their many products and services to a wider audience.
As the guide gives black small businesses a voice, by being the publication of choice for the sector, please read and share and participate with your feedback.
Our plan is to produce two publications this year.
If you would like to advertise in the October 2021 edition, please contact us at advertising@thevoicemediagroup.co.uk
LET US REBUILD TOGETHER!