09 Nov 2021
The aspects of hybrid working that you don't want to forget about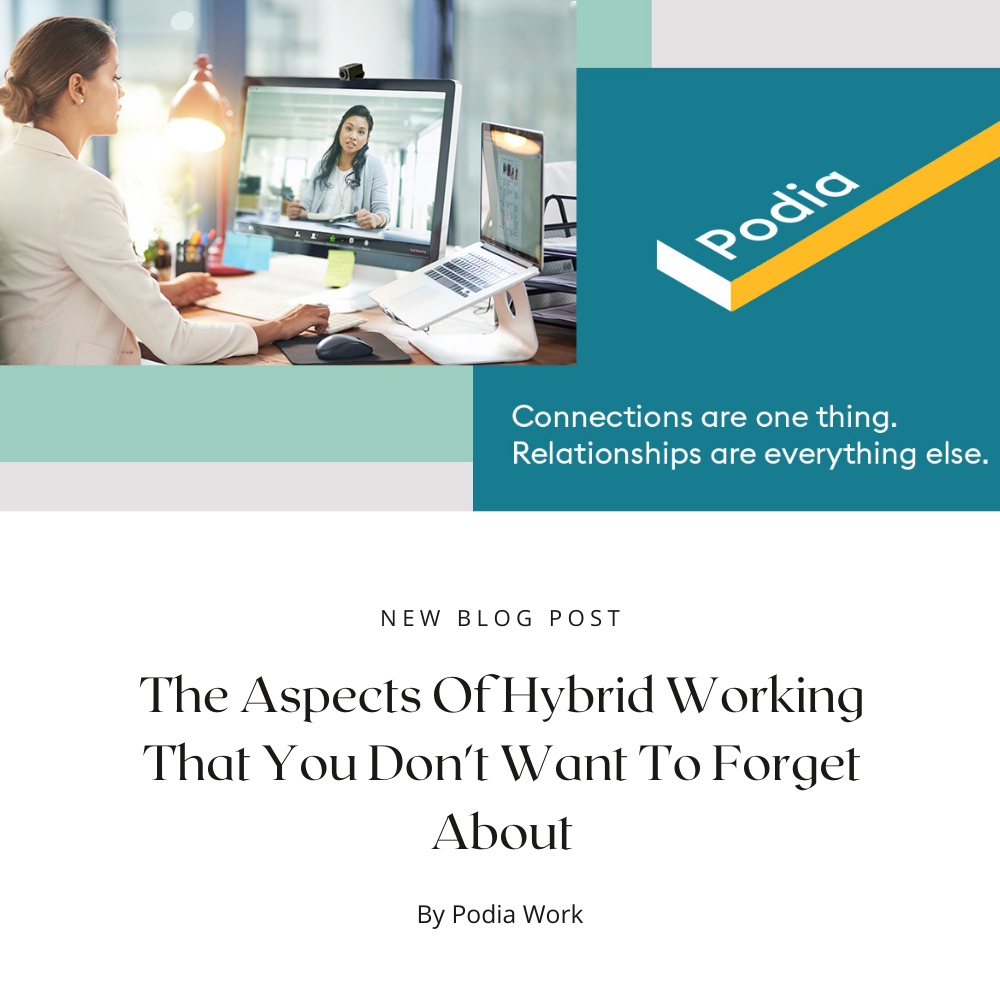 For working from home to be successful, the hybrid processes in place must be succinct.
Prior to the pandemic, remote working for many was looked at as employees not being around as much. Fast-forward to the age of flexible working, hybrid schedules now mean full operations, no matter where team members are based. The previous mindset of teams not being complete has now been replaced with the idea that home offices are an extension of the company location itself, and that no matter where people are working from, they are fully connected and contactable at all times.
But hybrid working is not just about providing equipment, it's much more than that. In the short term sending employees home with a laptop and headset may have worked, but now that contingency planning is vital for every department, workspaces-as-a-service must reflect this.
So what aspects of a hybrid workforce might your company be neglecting to consider?
Communication Is the make or break factor
Technology and software have become more advanced to suit remote needs. When teams are working apart from each other, communication is more important than ever. In previous times, we may have just discussed a project over a brewing kettle or even had a huddle space breakout for quick, creative problem-solving.
All of that is still possible, just in different ways.
When people are working within the office, meeting rooms and huddle spaces must be elevated. They now not only offer a productive space for in-person members but must be able to seamlessly connect to those based remotely. Virtual meetings and breakouts should also be done, and where possible, video is always going to garner stronger and quicker results.
Tools for communications are also key. Headsets should be easy to charge, simple to transport and noise-cancelling for premium outputs when on the move or working at home with distractions. Equally important are plug-and-go cameras which eradicate poor quality images experienced by some in-built webcams. Messaging over the phone or emails are missing the body language needed to convey the true meaning behind what is being said. This can affect moral for employees and work accuracy that could have been easily avoided by communicating via a premium, AV setup.
Your business will lose money if your asset management is not up to standard
The pandemic has resulted in a global business asset rise of more than 11%. With team members working in different locations, keeping track of everything is inevitably more complex. The reality is that lost assets equal lost money. As part of our workspaces-as-a-service offering, you can maintain a view of all assets via our Elevate platform. This allows you to check in on costs, request support and deploy easy onboarding, and offboarding when needed.
Company culture can become diluted
When clients decide to work with you, potential new joiners are weighing up contract offers and competitors are analyzing you, company culture is something they are all interested in.
It's easy to drench every part of a business in company design and language when in one office space, but more complex when working in different locations. Maintaining a unified front within home workspaces is hard due to unique decors but can be achieved via consistent technologies, assets, tone of voice, and communications.
Branding and representation is judged quicker
When a client is walking into a building for a meeting, they are greeted by a whole host of factors that create an impression about the brand. For video calls, that instant image that flashes up on the screen is everything they need to know.
For home working, this can be more difficult to control. We have covered the virtues of premium equipment, which are also important here as poor quality will give the impression that your company cannot afford or is not willing to invest in their teams. But other considerations such as what your teams are wearing, what their backgrounds look like and the height of their cameras all directly represent your business and what is stands for.
We think elevated workspaces can be aligned to your branding and show that you care about every detail, no matter how small.
Hybrid working is something that we are all learning how to do, and it seems that there is no right way to go about it. But we whole-heartedly believe that introducing workspaces that enhance team cohesion and boost productivity can eradicate those forgotten areas that could potentially harm your business.
To shop our complete bundles please visit Podia.Work/Store. If you would like any further information, please do email marketing@podia.work or give us a call on 01635 798620. We will also be exhibiting at the Working from Home Live Show on the 24th and 25th November so do come and visit us at stand C214 to find out how we can elevate your workspace's.