04 Oct 2023
New assessment platform will improve recruitment outcomes for small businesses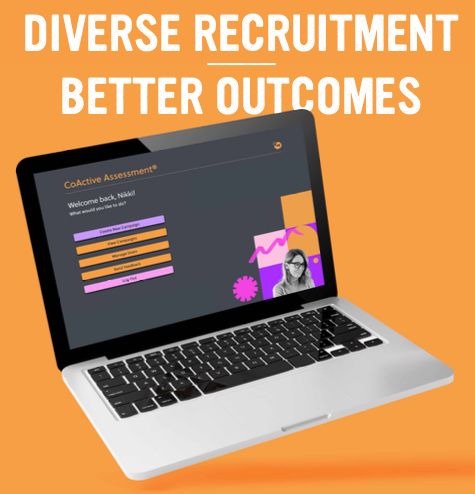 Are you scared to make costly recruitment mistakes?
Are you searching for talent in what feels like an increasingly competitive pool?
Does diversity within your business concern you?
If so, you need to visit CoActive Assessment® on Stand b1028 and experience our revolutionary approach to assessing candidates. By using a skills-based questioning approach, CoActive Assessment® reduces bias, improves ED&I outcomes, helps you avoid making costly recruitment mistakes and widens your pool of candidates. Come and share a biscuit with HR Biscuit and find out more.
Traditional interview approaches are competency-based, focusing on a candidate's previous experience, and asking them to share examples of how they handled situations and what they learned from them.
The problem is, this focuses on past performance, not future potential. In addition, it often excludes those who are disadvantaged, whether by socio-economic status, race, sexuality, gender, or neurodiversity.
This can reduce your pool of candidates significantly and easily lead to costly hiring mistakes.
According to research from CV-Library, poor hiring decisions generate losses of up to £15,000 for small businesses, with over 66% admitting to losing significant money on hires that haven't worked out. More than half of recruiters believe that better assessment of candidates would make a difference.
We've designed CoActive Assessment® to help avoid this. Our question banks and scoring are all based on future potential. We help you assess candidates by understanding their thinking, behaviours, beliefs and by letting them show you what they could be capable of in the future.
If you want to make a change to the way you view people's potential and avoid the detrimental effect of bad recruitment decisions, take a look at CoActive Assessment®. It's about inclusion, a fair chance, diversity, evidence and PEOPLE. We focus on asking people about their behaviours, abilities and potential, not just their past experiences.
This increases the pool of candidates you can consider for your role, and it decreases the chances of you making a bad hire.
The exciting news is that CoActive Assessment® is now available as an app. This latest development enables us to bring our proven approach to more businesses, especially smaller ones who cannot afford the cost of a poor hiring decision.
With our question banks and fairly-weighted scoring all built in, and training available for your CoActive Assessment® assessors, you'll soon be making more robust hiring decisions, and recruiting a more diverse and higher quality of candidate with a much wider pool to choose from.
Come and find us on Stand b1028 and share a biscuit with the team from HR Biscuit.