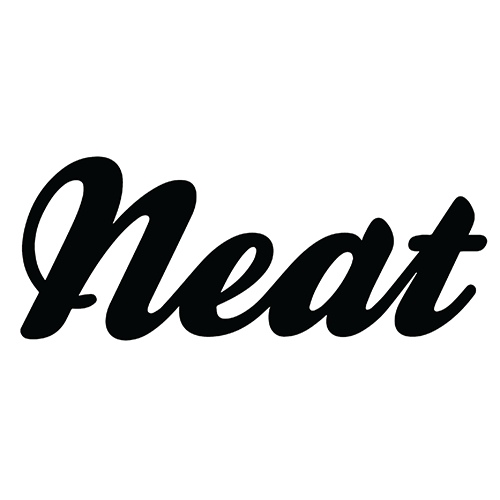 Neat
| Content Creation
| Graphics/Signage
| Marketing, Branding & PR
| Sales & Advertising
| Web Services

Neat: Pioneering the Future of Digital Excellence
---
Neat emerges as a powerhouse in the digital domain, setting unprecedented standards in the industry. Our ethos is grounded in modernity, minimalism, and sleek design practices, a combination that has garnered us multiple awards and recognition. With a portfolio enriched with over a thousand successful projects, we stand as a testament to quality and unparalleled customer satisfaction.
Our Journey
Neat began as a beacon of innovation, spearheaded by a team of professionals who envisioned a digital agency that transcends conventional boundaries. Today, we are a cohesive unit, working synergistically to revolutionise the digital landscape. Our journey is marked by relentless pursuit of excellence, a journey where we have not only met the industry standards but have endeavoured to set new ones.
What Sets Us Apart
Our distinction lies in our approach, a blend of creativity and strategic insight. Here's what makes us different:
Innovative Designs: Our award-winning design team is adept at crafting visuals that are contemporary and resonate well with the target audience.
Results-Oriented Approach: At Neat, we are driven by results. Our strategies are tailored to secure new leads and escalate profits, offering tangible benefits to our clients.
Exceptional Customer Service: We pride ourselves on offering customer service that is unmatched in the industry, fostering relationships that go beyond business.
Global Footprint: Our expertise is not confined to geographical boundaries. We have successfully collaborated with a myriad of brands, both big and small, offering solutions that cater to their unique needs.
Our Expertise
We offer a diverse range of services that include:
Web Design: Creating websites that are not only aesthetically pleasing but also user-friendly and optimised for search engines.
Social Media Management: Building vibrant social media communities that enhance brand loyalty and engagement.
Marketing: Crafting marketing strategies that are adept at driving traffic and boosting sales.
SEO: Implementing SEO strategies that enhance website visibility and attract a steady influx of organic traffic.
Graphic Design: Developing graphics that encapsulate your brand's ethos and convey its message effectively.
Video & Photo Production: Producing high-quality video and photo content that narrates your brand story compellingly.
Join Us at The Business Show 2023
We are excited to be a part of The Business Show 2023, a prestigious networking event that congregates industry leaders and enthusiasts. We invite you to join us as we unveil our latest innovations and engage in insightful discussions with peers. It's an opportunity to witness the quality and innovation that Neat embodies, up close.