Co-Innovate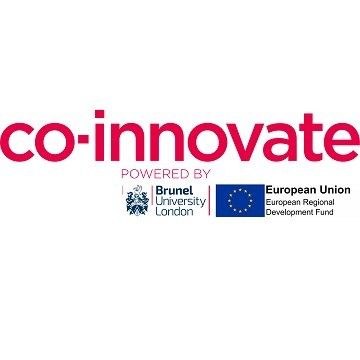 Co-Innovate is an innovation support programme for London-based SMEs, entrepreneurs and start-ups. Our goal is to help companies achieve business growth through collaboration with Brunel University London's world class academic expertise, knowledge assets and facilities. We are jointly funded by Brunel University London and the European Regional Development Fund.
The programme is further divided into two projects which are distinguished according to the needs of the business.
Co-Innovate Journeys provides support to SMEs, connects London-based SMEs with academic expertise and research practices at Brunel University London. This initiative provides the tools and support necessary to help your business innovate, differentiate and compete successfully in the market through collaborative projects with academics and students. The EU funding provides free tailored workshops for our beneficiaries, access to specialised research facilities and support in accessing innovation funding.
Co-Innovate Bridging the Gap (BtG) supports new start-ups /Entrepreneurs. This initiative supports London-based new start-ups to launch, scale and grow their innovative ventures. Co-Innovate BtG can help to drive a start-up forward through mentorship from experienced entrepreneurs and a flexible training programme to fast track an idea. It can also help with pitching opportunities to raise awareness and generate possible collaborative projects with students and academics to refine and enhance the idea.
---