techUK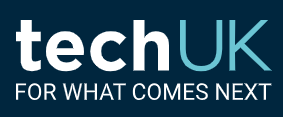 techUK is the membership body for the tech industry in the UK.
We support tech firms, their customers, regulators and Government, to capitalise on the benefits that technology can provide.
We inspire collaboration and innovation across business and government to provide a better future for people, society, the economy and the planet.
Our work can be categorised under three core focus areas:
We work with members to identify where technology can power progress and advance innovation across different markets.
Championing Tech and Innovation
We work with members and industry stakeholders to explore the application of new technologies and champion their use.
Shaping Policy and Regulation
Our relationship with government and regulators helps create the right market conditions for technology, and our members, to flourish.
We're pleased to represent 1000+ members, from household names to ones-to-watch. Our members include SMEs and multinationals, firms from every nation and region in the UK, and with a breadth of interest, from AI to Quantum, and from Digital Transformation to Telecoms.
Our members are the driving force of our work. Members participate in networks and workstreams relevant to their business. They lead our boards and working groups, and they set the agenda for our workstreams.
We work with members to define policy positions that will benefit the industry, and to champion tech as a driver of the economy.
Members join our community to build strong relationships with potential customers, partners, regulators, Government, and peers across the UK.